Welcome to our Website
Introduction

We are located near the scenic Malvern Hills, where we have lots of fantastic rides and hacks around bridlepaths
and other routes all the way up to Birchwood, which is located at the end of the hills
We are able to give lessons for all types of riders, from the nervous beginner to the experienced rider who wants to brush up their riding skills. We are happy to take all ages (although we have a minimum age of 4 years old).


There are always many watchful eyes to ensure that the children are well looked after.


We have group lessons and private one-to-one lessons. The group lessons are usually an hour and the private either half an hour or an hour. All activities can be taught from dressage, show jumping and event riding — the latter dependent on the weather!


Our group lessons are generally on Saturday and Sunday. We also have group rides for children / novice adults. These rides are mainly on the farm or the immediate vicinity, however for the more experienced adult riders, we go further afield on Sunday mornings after the children's group lessons. All rides have the opportunity for cantering and some jumping depending on your skills.
---
We are able to provide the following
Group Lessons
Private Lessons

Pony Club days
Hacking / Riding out
Pony parties
Rides for Hen Parties / Birthday Parties / Holiday visitors

This is currently a brief holding page until a new website is completed
---
Location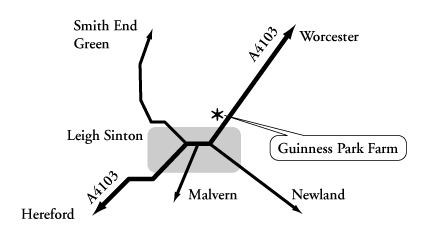 Guinness Park Farm
Riding School
Leigh Sinton
Malvern
Worcestershire
WR13 5EQ

Contact

Email djralph@guinnessparkfarm.co.uk
Phone 07736 350483 / 01886 833384